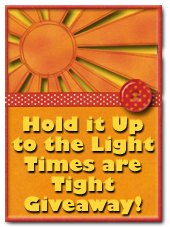 I have been reading Megan's blog for a while. I met She and her husband and children (well 2 of them) at Sumatanga one summer. Her family is adorable! I have really enjoyed reading her joyful blog.
Today Megan is doing a really fun giveaway. A friend of her's has created a ready to go scrapbook for one lucky winner. You should go over to her website
Hold It Up to the Light
and check it out! If you can get there before midnight tonight, you too can enter her giveaway!